How to Extract Realme ofp Firmware ROM
Here we have told how to Extract Realme ofp extension Firmware ROM. And how to flash realme smartphone through other tools. The file given here is in stock ROM of a realme. If there is firmware in ofp extension, then only realme will be able to flash it through flash tool, otherwise you will not be able to.
We will tell the method of flashing this firmware through another tool. By which the first step is to extract the firmware, if it is in the form ofp, then you will not be able to flash through other tools. (Like MediaTek will not be able to flash the smartphone with SP Flash Tool or any other.) You may have to face problems, so let's first know what is ofp.
All stock rom (flash file) given on realme firmware website is in ofp. Which can be flashed only through MSM download tool. To install, you will need a realme ID password, which is premium. But after extracting ofp, realme device can also be flashed through any other tool. (e.g. MediaTek devices with SP Flash Tool).
This is a legal technical method and very easy. There is no problem of device being dead. If you extract this file through zip software, then you will not be able to do it. Because the file is locked by this coded language. ofp file can be extracted only through software.
Which software is best to extract ofp file?
There are many such software on the internet to extract ofp formware. With which you will be able to extract, but there are many such software which are not able to extract the entire file, some files are corrupt. There is a problem installing some files. But there is such a software through which you will be able to extract and this software is absolutely free, we will give you complete information about this software. So the name of the software is mct extract tool.
MCT OFP Extract tool is a free tool, it extracts the ofp file fast. If your computer speed is good then it will extract it very soon. MCT tool is made only for Windows operating system it will not work on Apple Mac OS. This software is of very less size and it is very easy to use, it can be used without the help of internet.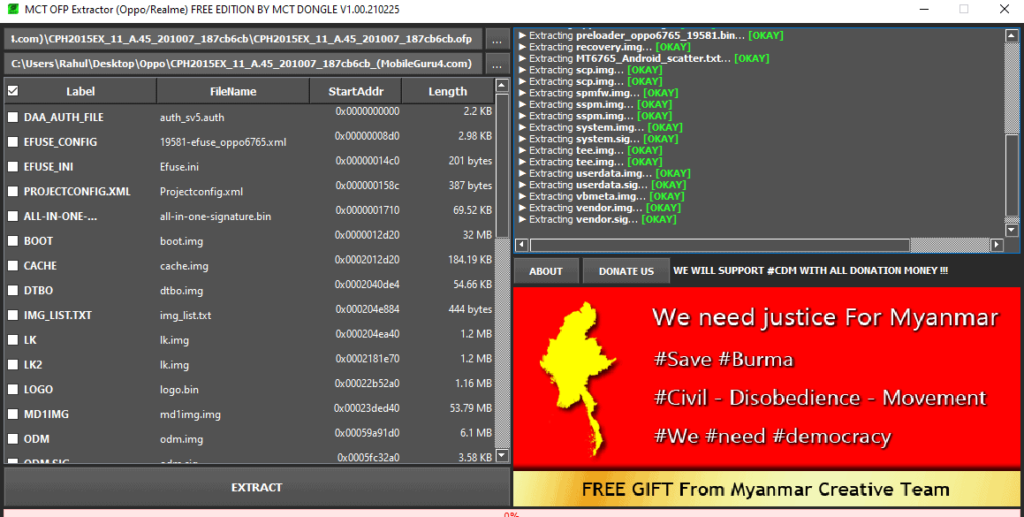 How to Use MCT ofp Extract Tool?
Download tool from Given link 
Extract the tool from the zip file and place it on the desktop screen
Double click on the tool and wait until it is opened
Once the tool is opened, it will look like the above screenshot.
At the top first select the realme firmware ofp file.
In the second column select the function where you want to save the file after extracting it.
Final Step Press on Attract and wait